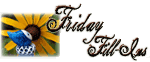 1.
RV'ing in Alaska
is high up on my bucket list.
I believe it is on the tentative schedule as the first summer after retirement.


2. My favorite quote is
It does not do to dwell on dreams and forget to live
; it's from
Harry Potter and the Sorcerer's Stone (Albus Dumbledore)
.
3.
Knitting
inspired me to start blogging.
4. Strawberries are best
fresh
.
No sugar please.

5.
Something about Kickapoo Indians
in the last dream I remember having.
That is actually what I remembered when I woke up this morning. No idea where that came from.


6. The most enjoyable time to go for a walk is
when I have a good audio book to listen to
.
My favorite audio book(s) are the Harry Potter series. Jim Dale is fabulous!

I love how J.K. Rowling has used names from history or mythology. Just yesterday during class a student pointed out the connection to Fenrir Greyback and Norse Mythology.

7. And as for the weekend, tonight I'm looking forward to
family time (which is our typical Friday evenings)
, tomorrow my plans include
giving the dogs a bath (doesn't that sound like fun?)
and Sunday, I want to
dig out an unfinished knitting piece to work on
!